Wisconsin - Right to work for less... and less...
MADISON, Wis. (AP) — A federal judge has refused a union's demand to block Wisconsin's right-to-work law.
The law prohibits businesses and unions from reaching agreements that require all workers, not just union members, to pay union dues. Unions have argued the law enables nonunion members to receive free representation.
Two chapters of the International Union of Operating Engineers filed a lawsuit in May alleging the law amounts to an unconstitutional taking. U.S. District Judge J.P. Stadtmueller upheld the law on Monday, citing a 7th U.S. Circuit Court of Appeals ruling upholding Indiana's right-to-work law.
A Dane County judge struck down the Wisconsin law in April, but a state appeals court has reinstated it while it considers state attorneys' appeal.
Sorry, I have not posted this stuff earlier, but I have been overwhelmed by disability and by other things. I'm just posting the headlines...
Quid pro whoa! Documents link Wisconsin governor to dark money
Scott Walker responds to John Doe files leak: nothing to see here
Wisconsin Attorney General Files Brief Opposing John Doe Appeal
John Doe Files: Corporate Cash in American Politics
Wisconsin Attorney General Appeals Brendan Dassey's Overturned Conviction
No state worse than Wisconsin for black children...
Mentally ill man dies without water in solitary confinement in Milwaukee jail
Scott Walker's Record on Race & Ethnicity
Scott Walker's Sons Disagree With Their Dad On Gay Marriage, But Won't Try To Change His Mind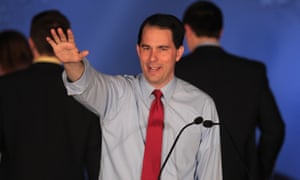 Scott Walker described the investigation that led to the leak of the 'John Doe files' to the Guardian as 'baseless'. Photograph: Scott Olson/Getty Images
Rumor: Photograph shows a young Wisconsin governor Scott Walker posing in lingerie on a Nazi flag.
(Note: I find SNOPES to be wrong, an awful lot. Just say'n).